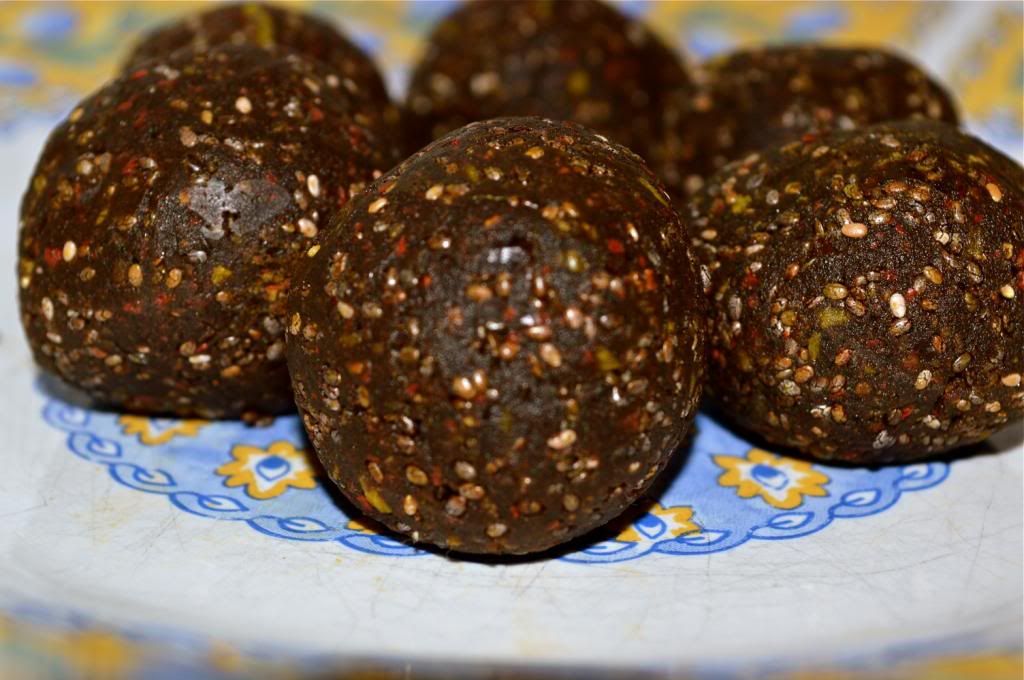 Well hello there! I have been super busy with the beginnings of school and so I know its been a while since I posted. I thought that I would share some of the things I have been working on in the kitchen this month. I am a big fan of superfood balls. They are almost a meal in themselves and are chock full of goodness. The secret to these sweet treats is medjool dates. These dates are much larger and softer than other dates you will find at the store which makes them perfect for binding things together. Medjool dates are full of vitamins and minerals and their sugars are released gradually in the body helping to keep blood sugar levels stable. It really is no wonder the date tree was one of the earliest cultivated trees in the Middle East.
Hidden Greens Superfood Balls
INGREDIENTS:
✿ 20 medjool dates
✿ 1/2 cup goji berries
✿ 1/2 cup almond meal/flour
✿ 1/4 cup hemp protein powder
✿ 5 tbsp chia seeds
✿ 1/4 cup coconut oil
✿ 1 tsp cinnamon
✿ 1 1/2 tbsp greens supplement powder (I use Vibrant Health's Field of Greens)
✿ 4 tbsp raw cacao powder
✿ 2 tbsp unsweetened shredded coconut



INSTRUCTIONS:
1) Place all of the ingredients in a food processor. Pulse until well combined and sticky.
2) Take a small amount of the mixture and roll it between the palms of your hands until it forms a ball.
3) Place the superfood ball on a parchment lined plate or container.
4) Repeat steps 2 and 3 until the mixture is all gone.
5) Place the superfood balls in the fridge for about 1 hour before eating (they will harden up a bit).
6) Store in the fridge.
7) Eat when hungry!
Enjoy!
Loves of love and smiles,
Malakai