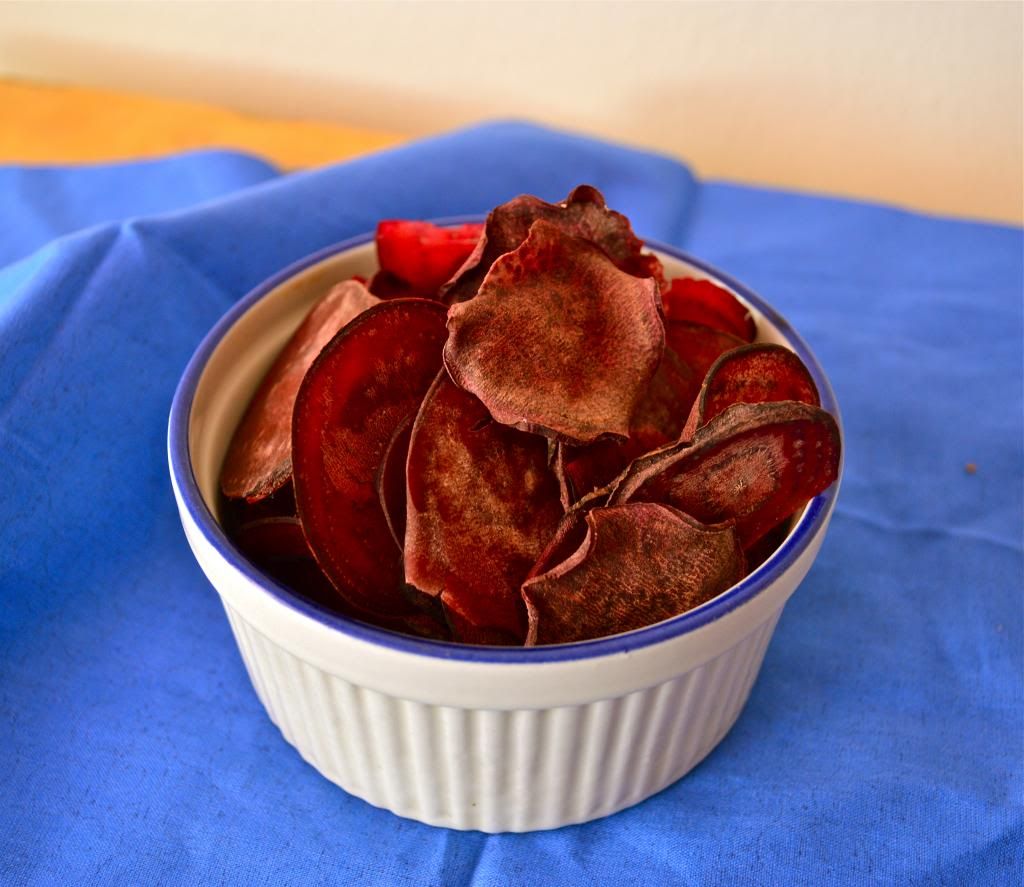 I have been quite scared of mandolins ever since I sliced off my finger using one last spring! Since then we have purchased a new mandolin (which I have not used until now...I have always asked Simon to do it for me for fear of slicing off another finger) and my finger has

grown back

. We are in the process of planning a tentative road trip across the country this July because we are 90% sure we are moving to Vancouver for September (very exciting!!). Given that we may be on the road for a few weeks we have started experimenting with lots of different dehydrated snackeroos! These chips turned out really nicely and have a good crunch to them. I do not believe that they would work in the oven but by all means give it a shot if you are adventurous. I have mentioned how much I love love love my dehydrator before and I really do! It's so worth the investment - and I recommend the Excaliber ones. I got mine off of craigslist for

less

than half price

, so buying used is always an option!
BEET & PURPL
E SWEET POTATO CHIPS
✿ 6 m

edium size beets
✿1/2 a purple sweet

potatoe
✿

1

tsp sea salt
✿ 1

/4 cup water
✿

1 tbsp olive oil
**M

andolin & Dehydrator
INSTRUCTIONS:
1) Scrub your veggies thoroughly with water (I use a scrub brush for this). Chop the ends off of both the be

ets and the sweet potato.
2

) Set your man

dolin to its thinnest setting.
3) Begin slicing your veggies into thin circles with the mandolin. **Please be careful not to

slice off a finger!
4) Place the sliced beets and sweet potato in a

large bowl.
5) Add the water, salt and olive oil and mix it around with your hands. Make

sure all of the chip slices are coated.
6) Allow the chips to sit in the water mix for 10-15 minutes

.
7) Place the chips on a teflex lined dehydrator sheet

.
8) Allow the chips to dehydrate at 145 F for an hour. Turn the heat down to 110 F and leave them to dehydrate for another

8 hours.
9) After 8 hours has passed remove them from the teflex sheet and place them directly onto the mesh

sheet. Dehydrate at 110 for another 4-5 hours.
10) Remove from the dehydrator and munc

h away!
Have a ver

y happy day!
Love,
Malakai