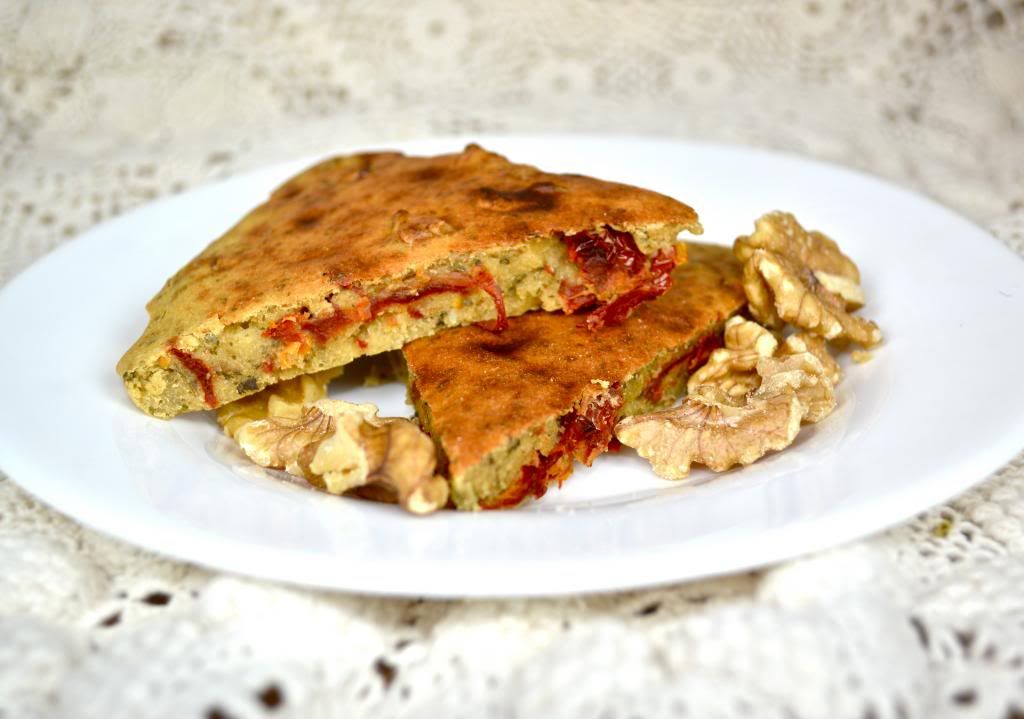 Food intolerances are becoming more and more common and I am often asked how it is possible to live grain,yeast,dairy and refined sugar free without feeling deprived. I'm not going to lie, going grain free can be tough when you are a bread lover like myself. My number one piece of advice is to open yourself to new possibilities and spend time putting love into the food you create. Often cutting back on certain foods can open the doors to a whole new world of culinary possibility! It is important to keep an open mind when beginning to try new recipes, remembering that nothing is going to taste like the white yeasty baguette you may have once enjoyed. This recipe is a delicious grain free alternative to focaccia. It is easy to prepare and is sure to be a hit for everyone at the table (not just those who are gluten or grain free)!
GRAIN FREE CHICKPEA FOCCACIA
INGREDIENTS:
✿1 cup chickpea flour
✿1 cup water
✿1/2 cup soaked sundried tomatoes
✿1/4 cup soaked walnuts
✿1 tbsp dried basil
✿1 tsp sea salt
INSTRUCTIONS:
1) Mix the chickpea flour and water together in a medium size bowl. Allow the mixture to sit for 3-4 hrs at room temperature.
2) Chop the sun dried tomatoes into fine pieces and place them in a medium size bowl. Add the walnuts to this bowl and add water until the sun dried tomatoes and walnuts are covered. Allow these ingredients to soak for 3-4 hrs at room temperature.
3) Rinse the sun dried tomatoes and walnuts and add them to the chickpea mixture. Stir in the basil and sea salt and mix until well combined.
4) Cut out a piece of parchment paper big enough to cover the bottom of a shallow 10 inch oven safe dish or frying pan. Set this piece of parchment aside.
5) Turn on the broiler in the oven and place your dish into the oven for 10-15 minutes to heat up.
4) Remove the dish from the oven.
Place the parchment sheet in the bottom and oil the sides of your dish with a brush and olive oil.
5) Pour the chickpea mixture into the pan so it is spread evenly.
6) Place the dish back into the oven for 6-8 minutes or until the top begins to brown.
7) Remove from the oven and allow to cool completely before removing the focaccia.
8) Slice the focaccia into 8-10 pieces and enjoy.
Happy Song of the Day:
Have a fabulous day!
Love,
Malakai